Our Care Homes are open and we are welcoming new residents
Find out more about how we are helping Residents to stay safe and well here.
Welcome to Burrswood House Care Home in Bury. Our vibrant Home prides itself on being a warm and friendly community, providing person-centred care for Residents. Burrswood is made up of four Houses with each one offering a different type of dementia or nursing care.
Situated in Walmersley on the outskirts of the town centre, our Home is nearby to shops, cafés and local amenities, so it's easy for our Residents to maintain their social networks and continue with their favourite pastimes. Our compassionate and dedicated team are on hand to provide as little, or as much, support as Residents need to help them stay active and enjoy themselves.
We want Residents to lead a comfortable lifestyle here in our Home, so each of the 120 bedrooms are tastefully decorated and furnished to a high standard. With en-suite facilities available and views of the front gardens, our rooms provide the perfect haven to relax and unwind.
Our Care Home in Bury is situated on main bus routes and is easily accessible from the town centre, making it a first choice for anyone looking for high-quality, person-centred care.
CARE FOR YOU
Residential Care
Nursing Care
Dementia Care
Respite or Short Stay
Palliative Care
Parkinson's Care
Person-centred care
At Burrswood Care Home we strive to provide only the very best care for Residents through a person-centred approach, in which Residents contribute to all the decisions about their own care. We take the time to listen to what Residents tell us they need, we talk through care options and we make sure we understand the important individual details that may be small, but matter a lot in daily life. Knowing when and how a Resident likes to take their morning coffee or how they prefer to keep in contact with friends are important details that shape a Resident's experience of care. Our compassionate team are on hand 24-hours a day to ensure that all Residents received the highest possible standard of care.
Living life to the full
Ensuring that Residents stay active and continue to enjoy life just as they would have done outside the Home is a priority for our Activities team here at Burrswood. We offer a programme of events and activities that are designed to appeal to all of our Residents, with quieter options available if Residents feel like a more relaxing day.
Our most popular activities range from card making, to sing-alongs and a cinema club, as well as arts and crafts, gardening, and quizzes. There's also plenty of opportunity to get out and about locally, with trips into the town of Bury (with its famous market), the Royal Fusiliers museum and Burrs Country Park all being close by.
Dining and nutrition
A healthy, well balanced diet, complete with all the nutrients and vitamins required for our busy daily lives, is an important component of wellbeing. As part of our person-centred approach to care we create great menus and take into account personal preferences to make sure Residents get the nutritional support they require.
Our experienced and creative chef ensures that every meal is both healthy and perfectly suited to Resident tastes and needs. We offer a varied menu including classic cuisine and popular regional recipes, as well as taking suggestions from Residents on their own favourite foods. All our meals are prepared fresh on a daily basis, using seasonal ingredients wherever possible. We also offer a range of snacks and refreshments outside of mealtimes.
Covid-secure visiting
Our number one priority is keeping Residents safe and connected with their loved ones. We have recently created a COVID-secure, indoor visiting space to ensure that Residents can socialise with their family and friends in warmth and comfort.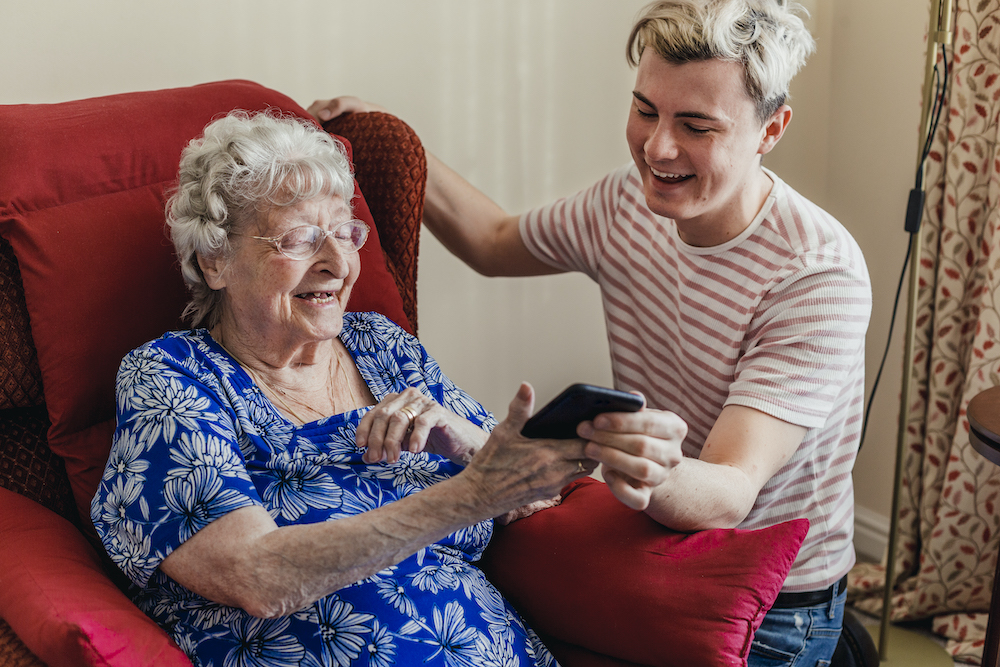 Electronic care plans
We always strive to innovate and use technology to enhance our provision of person-centred care. Our Home uses Electronic Care Plans which provide instant and secure access to care details and provide a thorough overview of support and activities. Using technology increases efficiency and enables our Colleagues to spend more meaningful time with Residents and improving the quality of interactions and care and support provided.
A home away from home
Residents are encouraged to feel at home right from their very first day at our Care Home in Bury. All rooms are tastefully decorated and furnished but by bringing in favourite belongings or small items of furniture they can personalise their rooms and add their own flavour to their private space.
Our bright communal lounge is the perfect place to socialise, take part in activities or relax with your feet up listening to your favourite radio show. Our leafy garden with well-maintained flower beds and seating areas, is the perfect spot to enjoy the summer sun and watch the birds and small wildlife enjoy our bird feeder.
Here are just some of the facilities available in our warm and friendly Care Home in Bury:
En-suite facilities
Rooms with garden view
Communal lounge
Access to a sensory room
Good wheelchair and lift access
What residents and families say about us
Here are some of our latest reviews from CareHome.co.uk, the leading care home review website.

Burrswood is a safe, secure home for my father. Its corridors are filled with laughter, the staff can't do enough to help. I have been kept informed of my father's welfare despite being unable to visit. I feel confident that he is happy and supported . Everyone has gone that extra mile for him and ensured his new home is as happy as his old.
Jill H
(Daughter of Resident)
Staff are good and they handle awkward situations well. Staff on Crompton Unit are brilliant at keeping me informed on how my mum is and ring with any queries or concerns. Senior staff on Crompton are really helpful and caring.
VL
(Daughter of Resident)
The new manager is excellent and has made improvements. I am very happy with the standard of care.
Joyce K
(Daughter of Resident)
Latest news from Burrswood House