Our Care Homes are open and we are welcoming new residents
Find out more about how we are helping Residents to stay safe and well here.
Welcome to Roseacres Care Home in North London, situated in the borough of East Barnet. At Roseacres you'll find a friendly, warm community, where Residents enjoy living meaningful lives with our attentive care and support. The expert team here ensure all Residents are well looked after, and we offer specialist care for Residents living with dementia, Parkinson's and other complex needs.
We provide holistic person-centred care, which means we focus on Residents' physical and emotional wellbeing, as well as their other needs. With plenty of activities, mental stimulation and opportunities to socialise, Residents always have lots to look forward to. From relaxing in our beautiful gardens to enjoying delicious, nutritious meals in the dining room, Residents can enjoy a lovely lifestyle here.
Roseacres Care Home in Whetstone is close to the M1 for drivers and a short walk from both Oakleigh Park mainline station and Totteridge and Whetstone on the Northern line. The Home is close to all the local amenities of Oakleigh Park, and Barnet Hospital is a ten-minute drive away.
CARE FOR YOU
Residential Care
Dementia Care
Respite or Short Stay
Parkinson's Care
Person-centred care
Our focus on person-centred care means we look after all aspects of Residents' wellbeing. Their emotional, nutritional and spiritual needs are as important as their medical or physical care. We want Residents to feel happy and content, bringing positive benefits to their overall health.
The team here treat each Resident as the individual they are, and we work with families and loved ones collaboratively. It's vital that Residents have an active role in decisions about their care, so their requests can be respected and followed. Together, we work to ensure they are getting everything they need to lead the life they choose.
Living life to the full
Our Care Home in North London always has plenty of activities going on. Our dedicated team discuss the schedule with Residents to ensure that they are doing the things they love. The activities we run stimulate the brain, encourage movement and give Residents the chance to socialise together.
We host regular arts and crafts workshops, bingo, quizzes, entertainers and dances. There are musical and reminiscence sessions for Residents living with dementia. Our staff facilitate trips out to local attractions, restaurants and events, plus we enjoy regular visits from community groups and performers.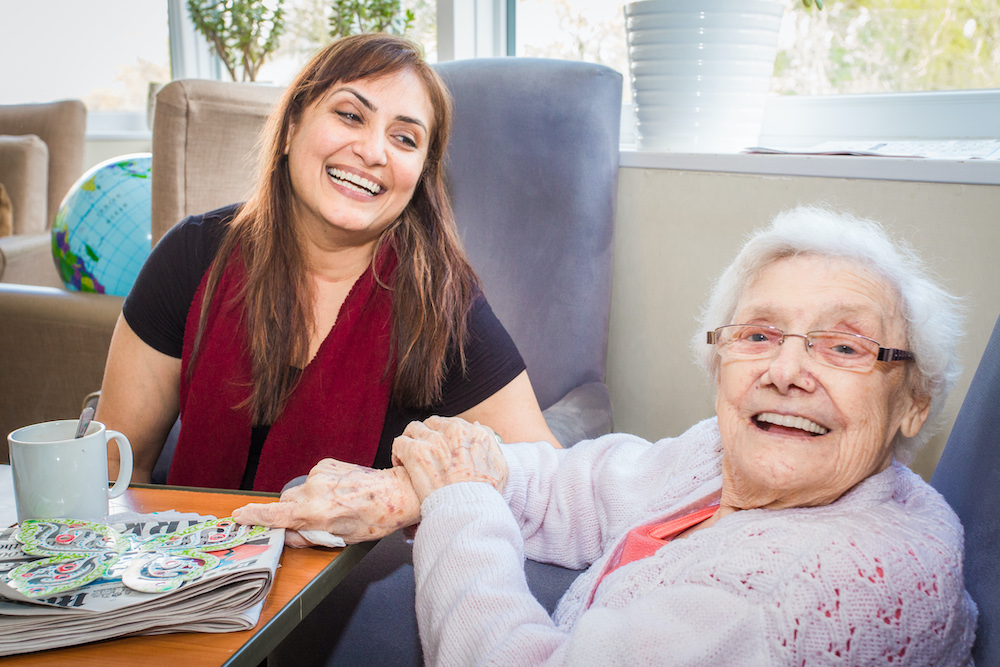 Dining and nutrition
Good nutrition is the foundation of good health, so our kitchen team prepare healthy, nutritious meals every day. When a new Resident first arrives, the kitchen team will find out their favourite meals and any dietary requirements.
Each day, Residents get a choice of dishes on our regularly reviewed menu. We use seasonal produce and cook meals from a variety of cuisines. If Residents have cultural dietary requirements, we are very happy to ensure they are met. We ask for regular feedback to make sure Residents are enjoying the food on offer.
Covid-secure visiting
Our number one priority is keeping Residents safe and connected with their loved ones. We have recently created a COVID-secure, indoor visiting space to ensure that Residents can socialise with their family and friends in warmth and comfort.
A home away from home
Our bright, vibrant Care Home in North London is tastefully decorated throughout. Residents are encouraged to make their bedroom space their own by bringing small pieces of furniture and personal belongings to personalise their rooms. Our spacious lounges are the perfect place for Residents to enjoy quality time together or participate in activities. Meals are taken in our dedicated dining room, where loved ones are welcome to book a table to eat with Residents.
Step outside to find our beautiful garden – a haven of relaxation and tranquillity in the bustling borough. There's plenty of seating in the courtyard, so Residents can enjoy spending time watching the wildlife, looking at the beautiful plants and flowers or strolling around in the fresh air.
Here are just some of the facilities available in our warm and friendly Care Home in North London –
Wheelchair access and accessibility
In-house shop
Landscaped gardens
Spacious Lounges
Dedicated dining room
Professional services from local practitioners
Visiting hairdresser
On-site chefs
What residents and families say about us
Here are some of our latest reviews from CareHome.co.uk, the leading care home review website.

Lovely place very friendly, kind and professional. They cared for my mum wonderfully, and I am very grateful that she had a place here.
I was worried about putting my mother into a care home. However, my concerns were unfounded as my mother is extremely happy at Roseacres. The manager and all the staff go out of their way in looking after her. I cannot fault the care and facilities.
Roseacres is a fantastic care home. The staff are lovely, friendly and very caring towards the residents. Everyone appeared happy and well looked after. I would highly recommend Roseacres.
S G
(Daughter of Resident)
Latest news from Roseacres Care Home