What to consider when looking for extra care
When the care needs of a person living with dementia grow more complex, families often ask: when should someone with dementia go into a care home?
Living in their own home or with family members can become increasingly difficult in the long term.  Plus, domiciliary care may no longer be an adequate solution.
In this article, we look at dementia care and when to consider the option of moving to a care home.
Here's a summary of the main points we'll cover in this article
Care homes are secure and safe places for people living with dementia.
Care homes can provide specialist dementia care for Residents.
Respite and relief for family, friends and carers is important and quality of life can be maintained for the individual living with dementia.
The cost of care homes can be covered by the individual themselves, or the local authority.
Who decides when to make the move into a care home?
In some cases people living with dementia are able to decide when to move to a care home for themselves. This applies to people with mild cognitive impairment, perhaps soon after a diagnosis of dementia.
Friends, family and carers should offer as much support as possible to aid this decision.
At this early stage, it is helpful to make a future plan regarding when to move into a care home. The individual can then decide where they move to, and at what stage that happens.
Financial planning will also be easier to manage, as they have the capacity to make a lasting power of attorney. This gives a trusted individual the ability to make decisions on their behalf.
What happens as an individual's care needs increase?
Due to the progressive nature of dementia, the person in question may not be able to decide for themselves as their condition advances.
When the time comes for a move to a care home, those around them may need to step in. There is no set 'best' time to make the decision, it will depend on each person's circumstances.
Making a plan to move into a care home can be unsettling for someone living with dementia. So it is important that they feel supported in whatever they decide to do.
When should someone with dementia go into a care home?
Caring for someone living with dementia can be a challenging task for family members, friends and carers. Every individual's experience of dementia is unique, so there is no right or 'best' time to plan a move into a care home.
Dementia is a progressive condition and the care needs of the individual increase as time passes.
At some point, family and carers might find that they are no longer able to provide the level of care needed.
Many people find that they require professional support when caring for more advanced symptoms of dementia, such as distress, restlessness and agitation.
Questions to ask
If you aren't sure when someone with dementia should go into a care home, ask yourself these questions:
Are you able to ensure the person's safety?
Is there a possibility that the person living with dementia will get lost or disorientated, if they leave their home alone?
Do they eat and drink regularly enough?
Are you or their care team able to support them in the ways they need?
Do they get enough stimulating activity?
Is their behaviour becoming unmanageable where they currently live?
Are their medical needs taken care of?
What does a care home offer someone living with dementia?
Care homes provide specialist care throughout the day and night, providing peace of mind to the families.
People living with dementia often struggle with daily routines such as personal hygiene and dressing. Living in a care home means they will have structured support in this area.
Safety is another key concern. Some of the symptoms experienced when living with dementia can put the individual at risk.
How does a care home setting help
Supervision and a safe environment within a care home can minimise these risks in a way that may not be possible in one's own home.
Some individuals struggle with remembering to shop, cook, eat regularly and generally care for themselves.
A care home will ensure a nutritionally balanced diet is available and specialist support can be provided.
In many care homes, they offer medical care on site with nursing staff present day and night.
Should any illness or discomfort arise, the nurse can deal with it swiftly, and in the care home, minimising disruption.
The benefits of dementia care homes
Living in a residential care home can be a lifeline for many people living with dementia.
Often there are plenty of stimulating and socially meaningful activities with other Residents of the home to join in with.
Previously isolated people can have a social life again and enjoy the benefits of having friends around them.
Memory-based activities, physical movement and a nutritious diet also have the potential to help maintain quality of life.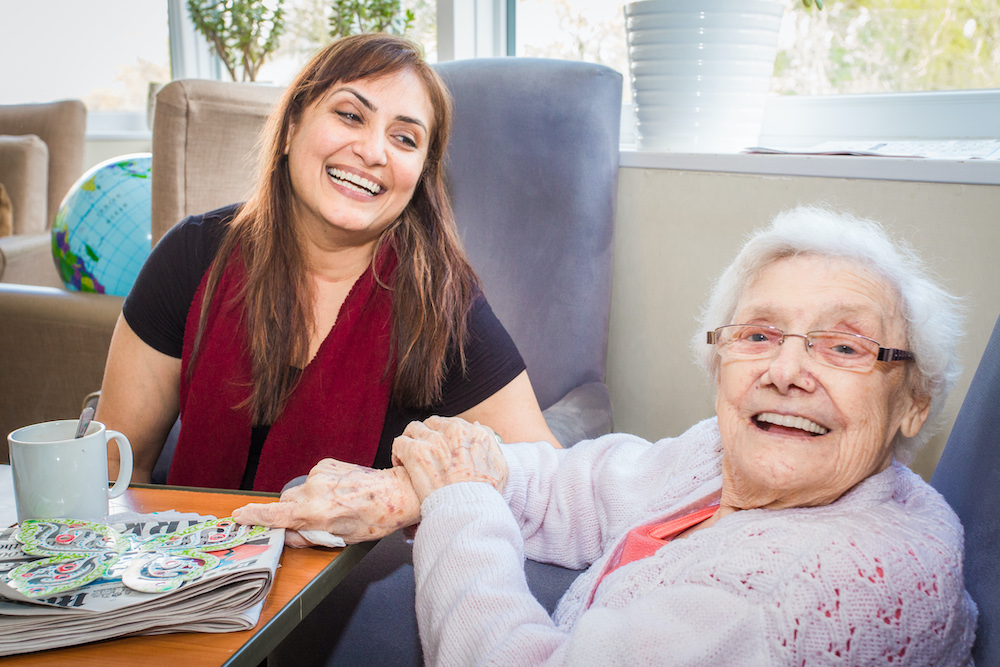 Care homes can provide support for your loved one
Supporting the care of a family member or friend in a home can be a relief for loved ones.
The responsibility of providing care can be overwhelming, so to have professionals provide it can be a great comfort.
The relief of knowing a loved one is safe and well looked after is priceless.
Care homes all have staff experienced in dealing with a variety of conditions, including dementia.
Plus care homes have specialist facilities like a sensory room and a memory cafe and are able to organise activities like music for dementia.
These facilities and more make a care home setting perfect for the long-term care of an individual living with dementia.
Selecting the most appropriate care home
It is helpful to discuss care home options with your loved one before their condition is too advanced.
Knowing their preferences will make finding a home that fits with their wishes easier.
Having a record of what they would prefer, as well as what they need, will narrow down your choices.
Your loved one could be happy in a residential care home where all their personal care needs are taken care of. They will have the chance to socialise with other Residents and take part in activities.
You also have the peace of mind that they will be encouraged to eat and drink regularly.
What if my loved one requires specialist care?
Should they need specialist care, a nursing care home will have increased medical support. This usually means nurses are on hand to attend to Residents day and night if needed.
The first step in the process would be to contact your local care home for free and independent advice. You can search for your local Advinia care home here.
You can also contact your local authority to ask about options. They will have you conduct a needs assessment which covers both the medical and financial situation of the person.
They will then be able to recommend what your next steps are and offer any relevant financial aid.
What is a dementia care plan?
A dementia care plan is a document presented in the voice of the person living with dementia. Its purpose is to help caregivers in getting to know the individual, and to tailor their care accordingly.
This personal plan will include information such as name, preferred term of address, and date of birth. It will go into depth regarding the person's background and culture, religion and any interests they may have. Importantly, it will also cover what they do and don't like to eat and drink.
What detail does a dementia care plan include?
As the care plan goes into detail about likes and dislikes, caregivers can use it as a social activity guide. Each individual has preferences about how they spend their time, and the plan will reflect that. A dementia care plan acts as a guide to tailor the care home experience to each person's needs and wants.
Ultimately, the care plan tells caregivers who the person with dementia is as a person. It describes their personal needs and wants in terms of their day-to-day life. 
A detailed plan will ensure that their experience at the home is as individual as possible.
What should be included in a dementia care plan?
How well I understand conversations and guidance
What is my name, date of birth, and my nickname or preferred term of address
Who are my family, friends and others in my life who I like to spend time with
How healthy I am, and where my health needs management
What personal items I like to have around me or in my room
High-risk activities and areas for me
My culture and any spiritual practices I observe
Activities I find appealing, and those I do not
My existing hobbies and things I am willing to try
What I do and don't like to eat and drink
How much and how often I like to eat and drink
What I need assistance with, like eating and drinking or personal care
Will a care home support nutrition and hydration?
Health guidance suggests that adults drink 6-8 glasses of water a day to maintain hydration. Individuals living with dementia who have memory issues may struggle to achieve this goal without support and guidance.
The same issue presents itself regarding nutrition. Individuals living with dementia may have difficulty recognising their hunger, or require help when eating.
In a care home setting, mealtimes are flexible, menus are balanced, and help to eat is always available.
Are nutritional assessments available?
Care homes usually carry out nutritional assessments when a person living with dementia moves into a care home. This will include questions about their cultural and religious requirements and personal preferences.
The care home will then use the information from the nutrition assessment when menu planning.
Part of the care plan assessment is to find out if any specialist support is needed.
Specialist support could include specially adapted equipment, textured modified diets or referral to professional support.
If an individual is at risk of malnutrition or dehydration because of dementia, the care team will monitor food and drink intake. They will then make a plan to encourage better eating and drinking practices.
In terms of hydration, hot and cold drinks are on offer throughout the day.
Water jugs and glasses are always out and accessible, and regularly refreshed. Caregivers should be on hand to assist individuals who cannot drink on their own.