Our Care Homes are open and we are welcoming new residents
Find out more about how we are helping Residents to stay safe and well here.
Welcome to Deanfield Care Home in Glasgow, situated in the suburb of Penilee, just a fifteen-minute drive from the city centre. It's easy to get to here by public transport, or via the M8 and the Home is close to local amenities. We're also a short distance from the Queen Elizabeth University Hospital.
We take care of Residents living with a range of needs, including dementia and Parkinson's. The Home also offers convalescence and palliative care, and our care and nursing teams work side-by-side. Our aim is to ensure Residents can live happy, meaningful lives, safe in the knowledge that we're here to support them in any way we can.
All our rooms come with en-suite as standard, and Residents are invited to personalise them from day one. We take pride in keeping everywhere clean and tidy and creating a warm, cosy atmosphere for Residents to enjoy. Every team member is dedicated and compassionate, empowering Residents to live their lives in the way they wish.
CARE FOR YOU
Nursing Care
Dementia Care
Respite or Short Stay
Palliative Care
Parkinson's Care
Person-centred care
Each Resident is an individual, and it is our responsibility to make sure all their needs are met. Our work encompasses more than just physical or clinical care, and we also look after Residents' emotional wellbeing, nutritional, spiritual and lifestyle needs.
We work in partnership with each Resident's loved ones, and make sure that what the Resident wants is our priority. It's crucial that Residents play an active role in decisions around their lives and their care, and we empower them to ask for the things that will make them happy and comfortable.
Living life to the full
At Deanfield, the Activities Co-ordinators provide a packed schedule, planning their activities with Residents' input. They ensure that each Resident has the opportunity for social interaction, mental stimulation and physical movement every day. Popular activities include bingo, ball games, movie screenings, karaoke, quizzes, tea parties, chair-based exercises, arts and crafts, as well as reminiscence sessions and more.
Entertainers regularly visit our Care Home in Glasgow including cabaret acts, dance troupes, musicians, and a mobile petting zoo, to name but a few. The team also organise outings to nearby attractions and museums, visits to the local allotments, shopping trips and a yearly excursion to the pantomime.
Dining and nutrition
Our chefs make sure that Residents eat nutritious, delicious meals every day. Residents are invited to suggest dishes, give feedback about meals, and choose the foods they enjoy eating. By giving them a seasonal, fresh menu with a range of options, we hope to ensure every Resident eats well.
Food is one of life's great pleasures, so the chefs also make dishes for special occasions, including our monthly themed dinner. They also bake Residents a cake for their birthday, do regular Sunday roasts, special celebratory meals for Christmas, Easter and other occasions.
Covid-secure visiting
Our number one priority is keeping Residents safe and connected with their loved ones. We have recently created a COVID-secure, indoor visiting space to ensure that Residents can socialise with their family and friends in warmth and comfort.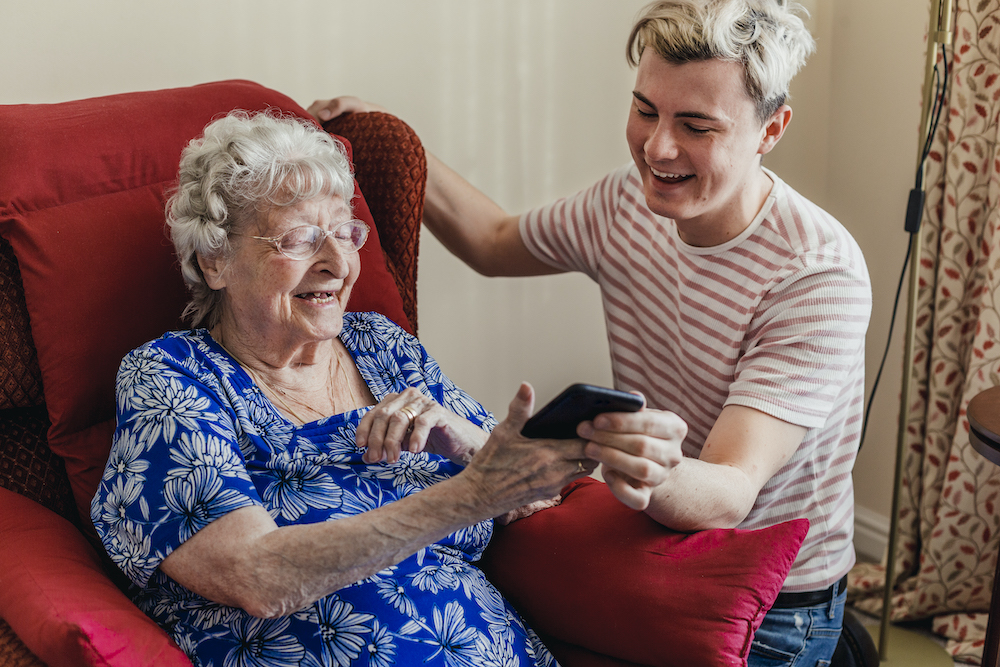 Electronic care plans
We always strive to innovate and use technology to enhance our provision of person-centred care. Our Home uses Electronic Care Plans which provide instant and secure access to care details and provide a thorough overview of support and activities. Using technology increases efficiency and enables our Colleagues to spend more meaningful time with Residents and improving the quality of interactions and care and support provided.
A home away from home
Although our Care Home in Glasgow is in the city, Deanfield has a quiet, secluded feel. We're lucky to have landscaped gardens where Residents can enjoy taking in the fresh air or get involved with gardening. Some Residents enjoy helping grow the vegetables for our menu as part of their lives here.
Inside the Home, there are plenty of spacious communal areas for Residents to spend time together. We have large lounges, a dedicated dining room and an in-house salon, where Residents can enjoy getting pampered. We also have quiet areas where Residents can relax peacefully if they choose.
Here are just some of the facilities available in our warm and friendly Care Home in Glasgow –
Wheelchair access and accessibility
In-house hair salon facilities
Landscaped gardens
Cinema lounge
Religious services
Spacious lounges
Dedicated dining room
Electric profiling beds
Laundry and cleaning service
Latest inspection report
Read full report
Duty of Candour Annual Report
Read full report
What residents and families say about us
Here are some of our latest reviews from CareHome.co.uk, the leading care home review website.

My parents are happier and healthier than they were before and they say that all the staff are very kind, they love the food and enjoy the activities that they are involved in. All the staff go out of their way to think about all the little things that make life pleasant.
MC
(Daughter of Residents)
My Aunt has been in the home for nearly six years, and I am more than happy with the care, love and attention she receives. The staff are amazing. Treating her with care and respect, and I see this with all residents.
Maureen B
(Niece of Resident)
The staff are so good with my mum. She appears to really trust the members of staff. Every day when I call, there's always some sort of activity or music going on. Highly recommended.
SB
(Daughter of Resident)
Latest news from Deanfield Care Home