Our Care Homes are open and we are welcoming new residents
Find out more about how we are helping Residents to stay safe and well here.
Welcome to Golfhill Care Home in Glasgow. Our purpose-built Home is located in the vibrant residential area of Dennistoun, once voted one of the world's 'coolest' neighbourhoods! Conveniently positioned north of the River Clyde, just over a mile east of the heart of Glasgow, we're well served by public transport with easy city centre access.
Golfhill is organised into four spacious self-contained bungalows each specialising in a different type of care, from dementia support to helping those living with Parkinson's. The Houses, which also cater for people who may be convalescing or require palliative care, are staffed around-the-clock by our dedicated Colleagues providing the very best person-centred care.
At Golfhill we help Residents get the most out of life, encouraging Residents to maintain their hobbies and also to take up new ones, as well as making new friends at the same time. We've generous lounges for socialising and for quieter days our beautifully landscaped and award-winning gardens offer an idyllic retreat.
CARE FOR YOU
Nursing Care
Dementia Care
Respite or Short Stay
Palliative Care
Parkinson's Care
Person-centred care
At Golfhill everyone is treated with dignity, compassion and respect as well as receiving all the expert care and attention they need. Each Resident has a personalised care plan that provides a detailed overview of their personal preferences such as when they like to wake up, the meals and foods they like to eat, along with all their care requirements.
We use the services of a local GP practice who make regular on-site visits, and Colleagues are always happy to organise appointments with dentists, opticians, podiatrists, chiropodists, among other practitioners. We also have onsite physiotherapy available to help keep Residents mobile and to strengthen any mobility they may have lost. If a little bit of pampering is required, our friendly in-home hairdressing salon will certainly do the trick, and to help Residents unwind we can provide some relaxation therapy too.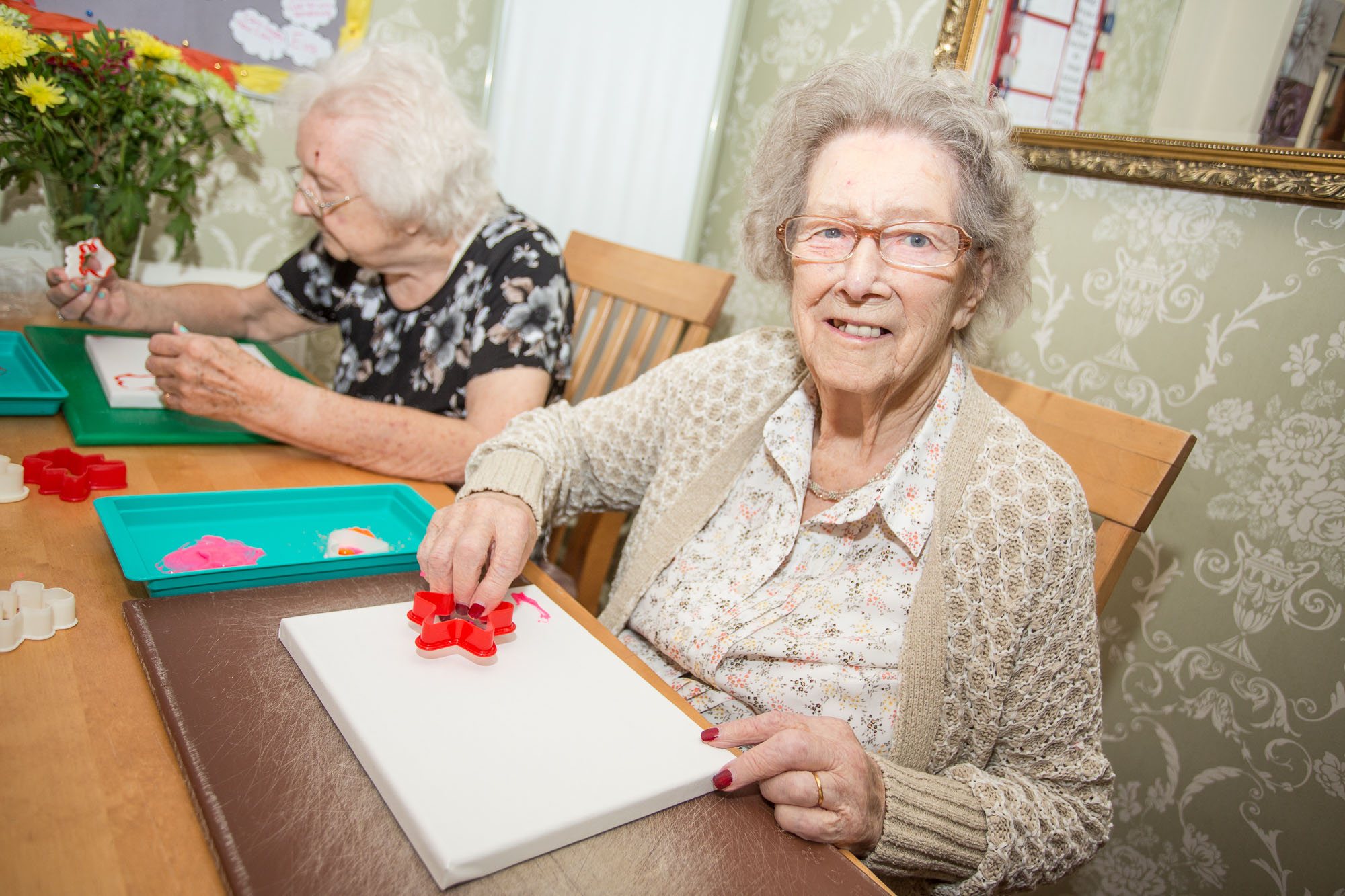 Living life to the full
Maintaining an active lifestyle is an important part of wellbeing and we encourage all Residents to take part in our varied programme of events and activities provided by our dedicated Activity Coordinator.
Popular choices include quizzes, tea parties, reminiscence sessions, movie nights, arts and crafts as well as a spot of gentle gardening in our private and secure gardens. Where possible, we invite entertainers into our Care Home in Glasgow including cabaret acts and dance troupes, and for our animal loving Residents we have regular visits from a mobile petting zoo. Golfhill Care Home is part of a vibrant community and we enjoy partnerships with schools and local organisations. Residents enjoy visits to community events, and trips out to nearby allotments, museums and shopping centres in and around Glasgow.
Dining and nutrition
Mealtimes are the heart and soul of family home life, so we make sure that all dining in our Home is an opportunity for meaningful social interaction, either catching up with friends about the day's events or chatting with Colleagues. Our professional chefs provide three delicious meals a day featuring fresh and seasonal ingredients. They also get to know the tastes as well as dietary requirements of each Resident to ensure all their nutritional needs are met. We're always looking to add new dishes to our menus, taking into account changing preferences and Residents are encouraged to contribute to the menu via questionnaires.
Covid-secure visiting
Our number one priority is keeping Residents safe and connected with their loved ones. We have recently created a COVID-secure, indoor visiting space to ensure that Residents can socialise with their family and friends in warmth and comfort.
A home away from home
Our purpose-built home has 105 rooms with en-suite facilities and a range of bright spacious lounges for socialising. From the moment a Resident arrives we want them to feel at home and part of our family, so they are encouraged to personalise their room with favourite possessions and small items of furniture. Many of our rooms have garden views and access to patios where refreshments can be enjoyed on a sunny afternoon or a moment of relaxing contemplation. Residents can enjoy classic movies in our cinema room or we've plenty of indoor quiet areas for enjoying favourite books.
Here are just some of the facilities available in our warm and friendly Care Home in Dennistoun:
En-suite facilities
Rooms with garden views and patios
Communal lounge
Conservatory and quiet lounge
Access to physiotherapy onsite
Reminiscence sessions and access to a memory box
24-hour care and call system
Laundry and cleaning services
Latest inspection report
Read full report
Duty of Candour Annual Report
Read full report
What residents and families say about us
Here are some of our latest reviews from CareHome.co.uk, the leading care home review website.

What to say, a big thank you to all the staff in the Whitehill unit of Golfhill Care Home, so grateful that you are all looking after my mum so well in these difficult times. I just know that she is happy, and content can't thank you all enough. Well done.
Elizabeth R
(Daughter of Resident)
My mum lives in Golfhill Care Home. She has Alzheimer's disease and the care she gets in Whitehill House is outstanding. Every resident is treated with great care and respect. The staff very quickly get to know the Residents' natures, their likes and dislikes and treat them accordingly.
Fiona M
(Daughter of Resident)
Latest news from Golfhill Care Home