Our Care Homes are open and we are welcoming new residents
Find out more about how we are helping Residents to stay safe and well here.
Welcome to Gorton Parks Care Home in Manchester, where our dedicated care team provide high-quality care for Residents. We're lucky to be situated in peaceful Gorton, close to the monastery, but just a couple of miles from Manchester City centre. With easy access from the M60 and plenty of public transport links, it's fuss-free to get to us.
The care we provide is person-centred, which means that we look after every aspect of a Resident's wellbeing – including their emotional, spiritual and nutritional needs. In our warm, friendly Home, we support Residents with many different care needs, including people living with dementia, Parkinson's and other complex needs.
When Residents arrive here, we make them feel right at home – and encourage them to personalise their bedrooms. There are plenty of chances to socialise every day, and with a busy activities calendar and new friends to get to know, it's a happy place to call home.
CARE FOR YOU
Residential Care
Nursing Care
Dementia Care
Respite or Short Stay
Palliative Care
Parkinson's Care
Person-centred care
Each Resident has individual needs, and the person-centred care approach we use focuses on getting to know them as a person. We support Residents to take an active role in decisions about how we care and support them so that they choose the life they want to lead and participate in every aspect of their life at Gorton Parks Care Home.
For us, wellbeing is about making sure Residents live meaningful lives and get to do the things that make them happy. By taking care of their emotional, spiritual, nutritional and lifestyle needs, we work to provide holistic care to everyone.
Living life to the full
Gorton Parks is a vibrant Care Home in Manchester, and our Activities team make sure there's plenty to enjoy. There's karaoke, film afternoons, pamper sessions, arts and crafts, quizzes, bingo and in-house entertainment. We also run therapeutic musical and reminiscence activities which support Residents living with dementia.
There are plenty of visitors from the local community, including local entertainers, visits from the donkey sanctuary, care home safari and many others. Residents can also visit their favourite places, continue to attend community groups, and socialise in the local area.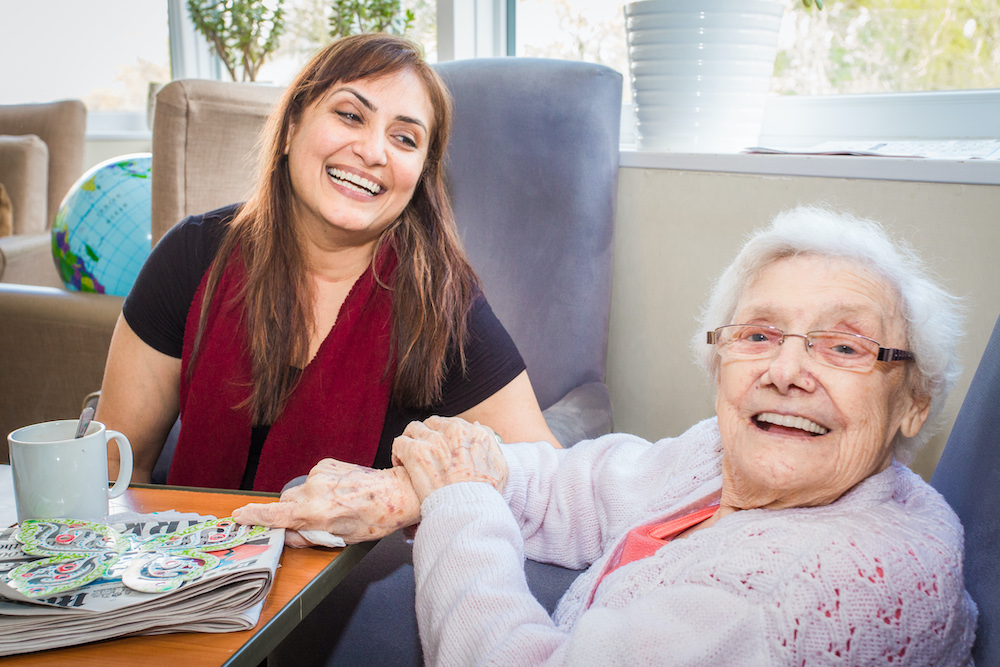 Dining and nutrition
Good food is very much a part of our Care Home in Manchester, and we know a nutritious menu is essential to keeping Residents healthy and well. Our Chef and catering team cook fresh meals daily and make sure there are always options that suit every Resident.
When a Resident arrives, the catering team will visit them to discover what they enjoy eating and note any dietary requirements. As menus are regularly updated, Residents can let us know what they enjoy eating and give us suggestions for new dishes to try.
Covid-secure visiting
Keeping Residents safe and connected with their loved ones is always a priority for our team at Gorton Parks Care Home. We have recently installed a COVID-secure, outdoor visiting pod to ensure that Residents can socialise with their family and friends in warmth and comfort.
A home away from home
Gorton Parks is comprised of several large bungalows, which are each able to offer different types of care. We have a general nursing bungalow, a nursing bungalow for people living with dementia and a bungalow that specialises in providing personal care to those living with dementia. Residents and their loved ones can rest assured that we can provide continuity of care at Gorton Parks if their care needs change.
We're lucky to have extensive grounds that mean Residents have a lovely outdoor space to relax in. Inside, our communal areas are bright and warm, and each unit has a dedicated dining room. There's also an in-house salon if Residents wish to have a pamper session.
The facilities available in our warm and friendly Care Home in Manchester include:
Wheelchair access and accessibility
In-house hair salon facilities
Pampering facilities
Landscaped garden
Arts and Crafts Area
Spacious Lounges in every unit
Open plan dining rooms
Experienced on-site Chefs
What residents and families say about us
Here are some of our latest reviews from CareHome.co.uk, the leading care home review website.

The care my mother received in her latter stages of life was incredible from a brilliant group of very nice people. A credit to the nursing home, each and every one of them.
On behalf of myself and my family, we cannot thank you all enough for the kindness and patience that was given to our mother. She was well cared for and loved by the staff.
William M
(Son of Resident)
My mum was in Debdale unit, and she got the best treatment you could possibly ask for. All the staff went out of their way to make her stay as pleasant as possible. I would recommend this unit to anybody.
Latest news from Gorton Parks Care Home