Our Care Homes are open and we are welcoming new residents
Find out more about how we are helping Residents to stay safe and well here.
Nestled in the village of Longwood, just ten minutes-drive from Huddersfield town centre, you'll find Longwood Grange Care Home. Here our team of compassionate and dedicated Colleagues provide person-centred care to Residents aged over 65. Our Care Home in Longwood offers personal care for people with a range of needs, including those living with dementia and Parkinson's.
The Care Home itself is a peaceful place, overlooking the Colne Valley and next to the historic St. Mark's Church. Here Residents can choose the life they want to lead – either enjoying being busy with the Home's many activities or relaxing quietly in the comfortable indoor spaces and garden.
We're in easy reach of the A640 New Hey Road if you are travelling by car, and on a local bus route, for those visiting us via public transport. The Huddersfield Royal Infirmary is just a five-minute drive away, and Longwood Village Surgery is 4-minutes-walk from Longwood Grange.
CARE FOR YOU
Residential Care
Dementia Care
Respite or Short Stay
Parkinson's Care
Physical Disabilities
Person-centred care
Each Resident is an individual, and their needs are unique to them, which is why we're passionate advocates of person-centred care. We ensure that all medical, emotional, nutritional and spiritual needs are attended to, giving Residents peace of mind. Our experience has shown that Residents who receive this type of holistic care feel their lives are enhanced and are very happy living at Longwood Grange.
Living life to the full
Residents can enjoy an active social life if they choose. Our busy activities timetable means there's always something fun to do – from singing to cooking, crafting to film clubs, and everything in-between, we have a range of things to choose from. We love celebrating special events with Residents, welcoming their loved ones, and inviting local community groups to come and visit us.
Dining and nutrition
We complement our person-centred approach to care with catering that takes into consideration the individual nutritional and dietary requirements of Residents. Our Chef offers a varied menu, using fresh ingredients to create healthy and balanced dishes that not only provide sustenance but taste great too.
We can adapt our menus for the different needs of Residents and accommodate personal preferences, making sure every mealtime is pleasant social experience for all. Our catering team particularly loves catering for special occasions, birthday and festivals.
Covid-secure visiting
Our number one priority is keeping Residents safe and connected with their loved ones. We have recently created a COVID-secure, indoor visiting space to ensure that Residents can socialise with their family and friends in warmth and comfort.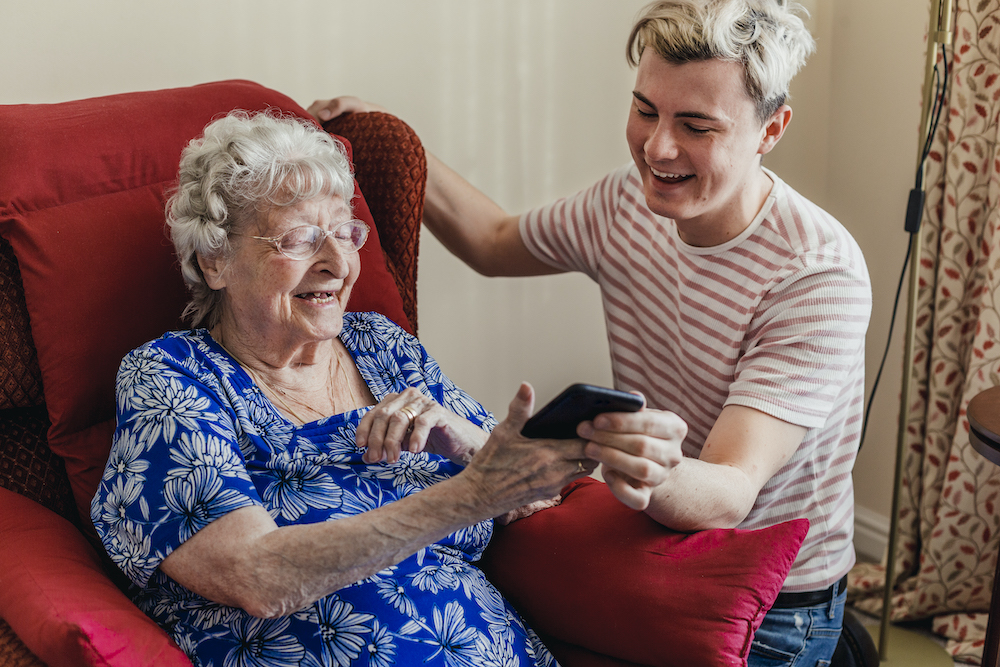 Electronic care plans
We always strive to innovate and use technology to enhance our provision of person-centred care. Our Home uses Electronic Care Plans which provide instant and secure access to care details and provide a thorough overview of support and activities. Using technology increases efficiency and enables our Colleagues to spend more meaningful time with Residents and improving the quality of interactions and care and support provided.
A home away from home
There are 31 rooms at Longwood Grange Care Home in Longwood, some of which are suitable for couples to share. Each one can be personalised straight away, providing Residents with the chance to make this their home from home. We empower Residents to make friends, lead fulfilling lives and take an active role in decisions around their care.
The Home used to be a school, and the building is unique and full of character. Residents can relax in our spacious communal lounge, which has little nooks for those who like to be away from the main hub. At our Care Home in Longwood we have an in-house salon for hairdressing, a cinema room and a well-appointed dining room. Residents can also enjoy our landscaped gardens when the weather is good.
Here are just some of the facilities available in our warm and friendly Care Home in Longwood village.
Wheelchair access and accessibility
In-house hair salon facilities
Landscaped garden
In-house shop
Arts and Crafts Area
Spacious Lounge
Dedicated Dining Room
On-site Chefs
Cinema Room
What residents and families say about us
Here are some of our latest reviews from CareHome.co.uk, the leading care home review website.

My wife's uncle has been at Longwood Grange for many years and now suffers from severe dementia. His care at all times has been absolutely first class. We could not be happier with his care. Longwood Grange has been more than good to him, it has exceeded expectations.
J W
(Relative of Resident)
The Home is a very pleasant, friendly place to visit my friend. The staff are very friendly and helpful. The Home is pleasant, and all the people look happy and well cared for. If, as I get older, I need residential care, I have told my younger brother I would like to go to Longwood Grange.
The staff are brilliant, kind and compassionate to all the residents. My family member says it's home for her, which tells me she's very happy there. They're all like a big family. A big hug from me to all the staff for keeping my mum safe.
Jenny B
(Daughter of Resident)
Latest news from Longwood Grange