Our Care Homes are open and we are welcoming new residents
Find out more about how we are helping Residents to stay safe and well here.
Welcome to West Ridings Residential and Nursing Home, where we care for Residents across five specialist homes on our site. Our Care Home in Wakefield has expert teams to look after Residents with a wide range of different needs. No matter what type of care they require, all Residents are cared for by compassionate care professionals, dedicated to their wellbeing.
In our busy, warm individual Houses, Residents are supported to live the life they choose. We aim to take care of more than just clinical needs, as Residents settle into our friendly community and make new friends. As well as residential care, we also provide nursing care and dementia nursing care on-site. One of the unique benefits of living at West Ridings is that if care needs change, we can provide continuity of care at the Home to ensure they get the best support and care for their specific needs.
West Ridings is situated just five minutes from Outwood train station which has routes to Leeds, Barnsley, Sheffield and Doncaster. We're also easily accessible from the M1 and M62 if you come by car. All the amenities of Outwood are on our doorstep, and the home is close to Pinderfields General Hospital.
CARE FOR YOU
Residential Care
Nursing Care
Dementia Care
Respite or Short Stay
Palliative Care
Parkinson's Care
Person-centred care
As part of this vibrant community, we're fortunate to have excellent working relationships with three GP surgeries, the Community Nurses, the community mental health team, speech and language therapists, and occupational therapists too.
Working with these multi-discipline professionals, we can provide exceptional, person-centred care. All Residents have an initial assessment to identify their specific care needs and to discover how we can support them in living the life they choose and we build-in Resident preferences and decisions into their bespoke, person-centred support plan. We monitor and update this with each Resident and their loved ones on an ongoing basis.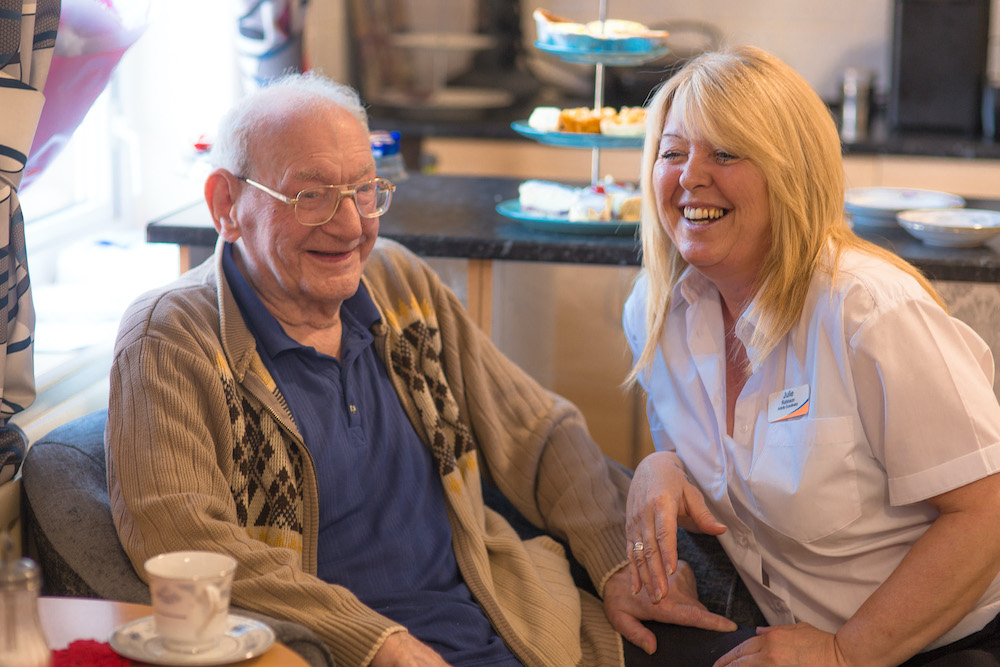 Living life to the full
The Activity team at West Ridings works hard to provide Residents with plenty of opportunities to socialise and participate in activities. From our regular House tea dances to fun-filled games, from visits by local school children to chair-based exercises, there's always something going on.
We also host special events like our Summer and Christmas fayres and in 2020 we even had a special concert from Ray Lewis, lead singer of The Drifters at our Care Home in Wakefield. Our activities programme also includes therapeutic activities for people living with dementia, including musical and reminiscence sessions.
Dining and nutrition
Our chefs ensure that all Residents can enjoy the food they love and have plenty of healthy, nutritious options. Our produce is fresh and locally sourced where possible, plus we also provide a good range of dishes on the menu from which to choose.
When Residents first arrive, we take time to find out what their favourite foods and dishes are so we can include them. Any dietary preferences or requirements can be catered for. Menus are reviewed regularly, and we check in with each Resident to make sure they are enjoying the food on offer.
Covid-secure visiting
Our number one priority is keeping Residents safe and connected with their loved ones. We have recently created a COVID-secure, indoor visiting space to ensure that Residents can socialise with their family and friends in warmth and comfort.
A home away from home
Our bedrooms are all cosy and comfortable and from day one, the rooms can be personalised, and our experienced Resident Experience Manager will work alongside each Resident to ensure their space is decorated to their taste.
Within each of our five, individual Houses there's an open plan living space with a conservatory and there are tranquil and secure garden areas for everyone to enjoy.
The facilities available in our warm and friendly Care Home in Wakefield include:
COVID-Secure Family and Friends Visiting Rooms
In-house hair and nail salon
Landscaped gardens
Summer house
On-site Little Library
Spacious open plan living spaces
On-site Chefs
On-site laundry
Wensleydale Arms Pub
Calderdale tearoom
What residents and families say about us
Here are some of our latest reviews from CareHome.co.uk, the leading care home review website.

I am so pleased with the care my mum received - nothing was too much trouble for any of the staff nurses, I felt I didn't have to worry about my mum when I left as she was so supported. I would recommend West Ridings to anyone's loved one, you wouldn't have any worries.
Debbie C
(Daughter of Resident)
Myself and my family are very happy with the care my mum receives. We can sleep easy knowing she is well looked after and cared for. My mum is always clean and tidy, and her room is lovely. Even though she may not be fully aware, it is important for us, her family, that she has comfortable homely surroundings.
Christine B
(Daughter of Resident)
The care my mum has been given is exceptional, and she is very well looked after. The staff are all wonderful, and nothing is too much trouble. After months of anxiety, I am now happy to say Mum is getting the care she deserves in this wonderful care home.
Karen
(Daughter of Resident)
Latest news from West Ridings