Our Care Homes are open and we are welcoming new residents
Find out more about how we are helping Residents to stay safe and well here.
At Woodfield Grange Care Home in Halifax, we pride ourselves on delivering excellent person-centred care for Residents. The friendly team here work tirelessly to offer 24/7 residential and nursing care, as well as respite and palliative care. Each Resident is an individual, and we want to support them to lead the happy, active life they choose.
Located in a quiet suburb of the town, our Care Home in Halifax is close to Greetland suburb's local amenities. It's just under 4 miles to the town centre, and the local bus runs every ten minutes, which makes it fuss-free for visitors to get here. It's also in easy reach of the Halifax Royal Infirmary.
Our ethos is focused on creating an active partnership between our care team, each Resident and their loved ones. Our priority is the physical, emotional and spiritual wellbeing of every person we care for. By working together, we want to empower Residents to lead fulfilling and meaningful lives.
CARE FOR YOU
Residential Care
Nursing Care
Dementia Care
Respite or Short Stay
Palliative Care
Parkinson's Care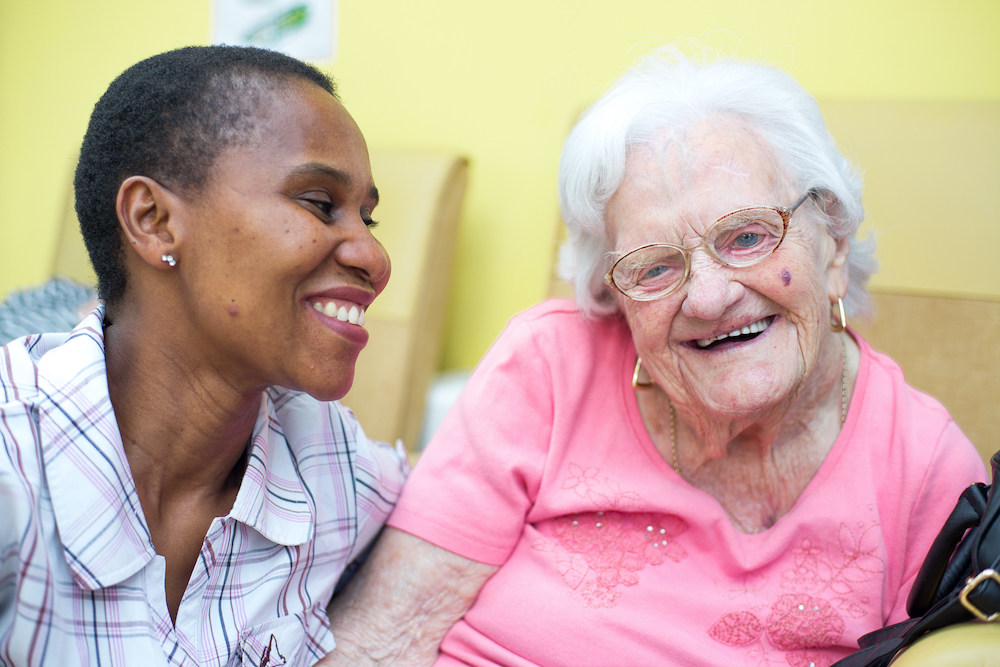 Person-centred care
The culture of a Home directly affects the quality of life for Residents. We foster and encourage a positive ethos of care built around each individual. Our guiding principle is to put Resident interests at the centre of everything we do and give them an active role in their care.
The key to a successful partnership is good communication, so we ensure Residents and their loved ones feel respected and included and that they are consulted at all times. Wellbeing is about much more than just physical care, so we ensure that the emotional and spiritual wellbeing of all Residents is a priority as well.
Living life to the full
There's a friendly, sociable atmosphere at Woodfield Grange, driven by our dedicated Activities Co-ordinator. Everyone here encourages Residents to forge new friendships, have new experiences, and participate in the activities they are interested in. There are sensory activities, arts and crafts sessions, quizzes, painting and music sessions for Residents to get involved in.
For those who love being outdoors, our care home in Halifax boasts a peaceful, secluded garden. There's a large veranda on which to relax and enjoy the fresh air, as well as the opportunity to get involved in our gardening group and flower arranging. We're always looking for new ways to engage Residents, whatever their favourite hobbies.
Dining and nutrition
Our professional chefs use the freshest ingredients to prepare delicious, nutritionally balanced meals throughout the day. Our menu features classic dishes alongside regional cuisine and is updated regularly.
The team ensure there's a range of options to choose from every day. Plus, Residents can let us know what they like to eat and if they have any dietary requirements, so we can ensure they're well catered for at mealtimes.
Covid-secure visiting
Keeping Residents safe and well is always our number one priority. We've adapted our garden room to provide a COVID-secure internal visiting space where Residents and their loved ones can socialise together in warmth and comfort. The room has a floor to ceiling perspex wall, an intercom to enable clear communication even for those hard of hearing and separate entrances to maximise infection prevention and control.
A home away from home
When Residents arrive, we help them to personalise their bedroom, to ensure they feel at home straight away. Each of our 35 rooms is designed to be comfortable and homely, and there are options for couples to share rooms too.
In our spacious lounge, Residents congregate to enjoy activities, socialise and relax. Meals are taken in our dining room, where Residents can choose to dine together if they wish. We take pride in keeping the home clean and tidy, making sure Residents can enjoy the space to its full advantage.
Here are just some of the facilities available in our warm and friendly Care Home in Halifax:
Wheelchair access and accessibility
In-house hair salon facilities
Secluded garden with large veranda
Spacious Lounge
Dedicated Dining Room
On-site Chefs
What residents and families say about us
Here are some of our latest reviews from CareHome.co.uk, the leading care home review website.

Woodfield Grange is a loving, caring environment where my mum-in-law has flourished. She's happier and healthier than I've seen here for years. This is due to the fantastic staff, every one of them.
Karen L
(Daughter of Resident)
My mother was only in Woodfield Grange for a few days before she died. However, in that short time, she received excellent care from a very caring staff who cannot be praised enough. Our only regret is that she didn't move there sooner.
M S
(Daughter of Resident)
A very clean and open facility. Friendly, caring staff, excellent food and plenty of entertainment. Nice garden, the rooms are very cosy.
Amarpreet K
(Daughter of Resident)
Latest news from Woodfield Grange