Our Care Homes are open and we are welcoming new residents
Find out more about how we are helping Residents to stay safe and well here.
Welcome to Braemount Care Home in Paisley, where our team provides person-centred care for Residents in a homely environment. Our pretty purpose-built Home is in easy reach of Glasgow and Greenock, close to the M8 and served by reliable bus and train services.
Our compassionate and kind nurses and carers look after Residents with a range of needs, including those living with dementia. We're able to provide round-the-clock nursing care on-site, so if Residents' care needs change, we can accommodate them. Person-centred care empowers Residents to take an active role in their care decisions, and we treat each person as the individual they are.
We're a very sociable community, our activities timetable is full of fun-filled sessions, and there's plenty to do. Residents are encouraged to try new things, continue their favourite hobbies and live the life they choose. Braemount has a family feel, and we work hard to ensure Residents feel right at home as soon as they arrive.
CARE FOR YOU
Nursing Care
Dementia Care
Respite or Short Stay
Palliative Care
Parkinson's Care
Physical Disabilities
Person-centred care
Our compassionate team works with each Resident to develop an individualised support plan, respectful and responsive to the Resident, helping them make decisions about their own care. This plan is reviewed regularly by the care team and Resident and their family where possible.
We use the services of a local registered GP who makes regular visits to our Home and our team are also happy to organise appointments with other practitioners such as physiotherapists, occupational therapists, chiropodists, opticians or dentists, when required.
Residents may also visit our in-home professional hairdresser for a spot of pampering.
Living life to the full
Our Activities Co-ordinators make sure there's a packed schedule of things for Residents to do each week. Every day we aim to hold sessions that are mentally stimulating, involve physical movement and provide a chance to socialise. Resident favourites include bingo, tea parties, scrapbooking, karaoke, gardening, reminiscence sessions, quizzes and music sessions.
Our Care Home in Paisley has strong links with the community, so we often have cabaret acts, entertainers and community groups in to visit. Our care team can also arrange trips to local attractions, shopping centres and restaurants if Residents wish to have a day out. We want Residents to make their most of their lives and do all the things they enjoy with our support.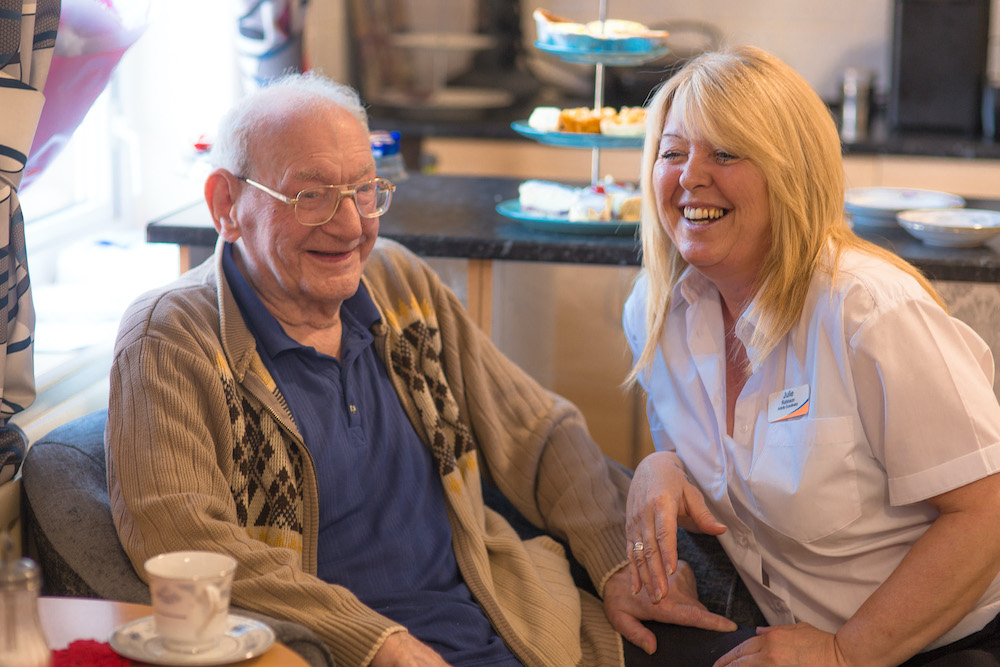 Dining and nutrition
Maintaining a well-balanced diet is important to staying healthy, particularly as we approach the later years of life. When a Resident moves into our Care Home in Paisley we work together to formulate meal plans that find the perfect balance between correct levels of vitamins and nutrients and delicious tasting dishes.
Our professional chefs get to know the likes, dislikes and specific needs of each Resident and create varied menus using fresh and seasonal ingredients. We provide three tasty meals a day, served in our comfortable dining room as well as sweet and savoury refreshments at other times. We want to make sure we get things just right, so Residents are encouraged to have an input to menus via questionnaires.
Covid-secure visiting
There is nothing more important to us than the health and safety of Residents and we know how crucial it is for Residents to stay in touch with loved ones. This is why we have developed cosy indoor COVID-secure visiting spaces for family and friends to use.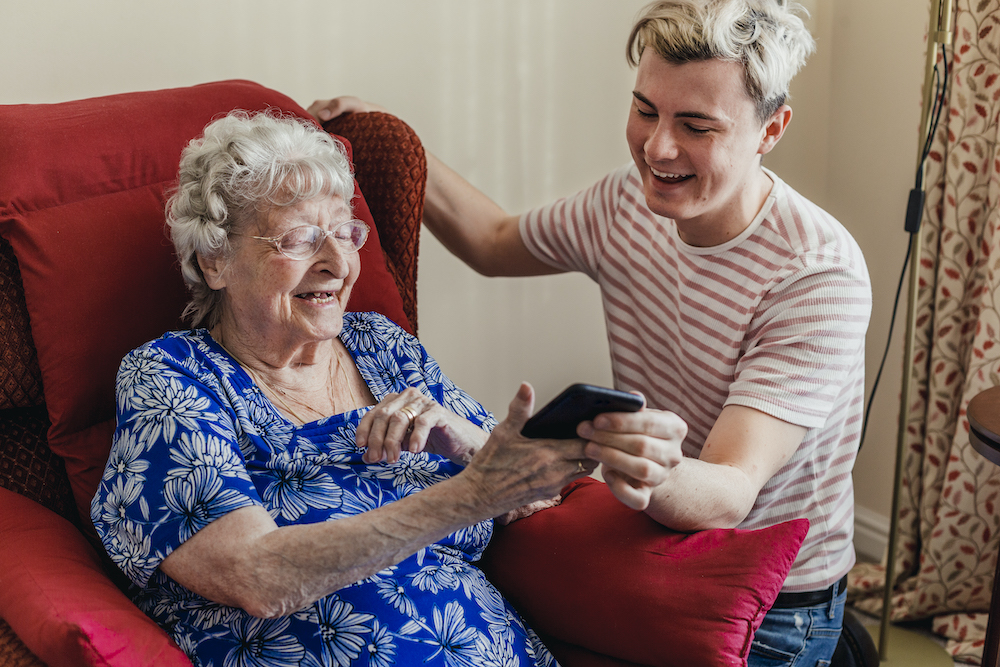 Electronic care plans
We always strive to innovate and use technology to enhance our provision of person-centred care. Our Home uses Electronic Care Plans which provide instant and secure access to care details and provide a thorough overview of support and activities. Using technology increases efficiency and enables our Colleagues to spend more meaningful time with Residents and improving the quality of interactions and care and support provided.
A home away from home
Residents soon start to feel at home at Braemount. We invite each Resident to stamp their own personality on their en-suite bedrooms, bringing along personal objects and small items of furniture to make their rooms feel warm and familiar.
As well as their private bedrooms, Residents can socialise in our spacious lounge, pretty conservatory or take time out in our quiet area. Plus if they fancy some fresh air, our beautifully landscaped gardens offer a true haven.
Here are just some of the facilities available in our warm and friendly Care Home in Paisley:
24-hour care and call system
Direct garden access
Rooms with garden view and patio
Communal lounge
Conservatory
Reminiscence sessions
Access to a Memory Box
Latest inspection report
Read full report
Duty of Candour Annual Report
Read full report
What residents and families say about us
Here are some of our latest reviews from CareHome.co.uk, the leading care home review website.

My grandfather has been a resident at this care home for a few years now. I have no concerns whatsoever for his care. The staff are lovely, one young girl, in particular, she goes above and beyond and the care she shows is incredibly touching. It's good to know my grandfather is in good hands and looked 
after as it puts out minds to ease a little. I thank you all for everything you do, especially in these tough times we face just now. Stay safe everyone and keep up the good work.
E D
(Granddaughter of Resident)
At a very difficult time, when my husband could no longer be cared for at home, the staff were very caring and made the transition easier for me. I could see that he was being well cared for. His dementia is severe, and he needs a high level of care. The premises and individual rooms are homely and welcoming. This is very important.
Couldn't have found a nicer friendlier environment for my mum. The staff (and I speak as a retired nurse) are so friendly and attentive to my mum's needs. Nothing is too much for them, the environment around the complex is so well maintained and a lovely place to take my mum to sit in the nicer weather. Lots of activities are arranged for the residents, including a new vehicle for speaking face to face.
Robert C
(Son of Resident)
Latest news from Braemount Nursing Care Home