Our Care Homes are open and we are welcoming new residents
Find out more about how we are helping Residents to stay safe and well here.
Welcome to Kingsway House Care Home in Durham where we care for Residents with a range of health needs, including mental health issues. Our expert team provide care for people living with schizophrenia, bi-polar, Parkinson's, Korsakoff, and other types of dementia. In this supportive and calm environment, Residents we support Residents to live happy and comfortable lives.
The Home is situated just a ten-minute drive from Durham's city centre, close to the A1 and in easy reach of Langley Park's shops and amenities. Residents and their loved ones can venture to the beautiful waterside nearby for walks and picnics when the weather allows. Given its proximity to all the local amenities and the countryside, Kingsway House Care Home in Durham offers the best of both worlds.
Inside the Home, we have 42 bedrooms, which Residents can personalise from the moment they move in. Our enclosed garden is the perfect place for Residents to enjoy the fresh air in a safe and secure space. The team is committed to providing compassionate, person-centred care that helps Residents live the life they choose.
CARE FOR YOU
Nursing Care
Dementia Care
Respite or Short Stay
Palliative Care
Parkinson's Care
Mental Healthcare
Person-Centred Care
Our care approach is person-centred, which means that Residents are empowered to take an active role in discussions and decisions around their care. We undertake comprehensive risk assessments and develop individualised support plans that are regularly evaluated.
The team here focus on providing Residents the opportunity to lives that are as independent as possible. By working in collaboration with Residents and their loved ones, we hope to enable them to fulfil their wishes and help them feel safe and supported.
At Kingsway House in Durham, Colleagues look at all aspects of Resident wellbeing. We take care of social, emotional and spiritual needs, helping to facilitate Residents' connections with each other and the community.
By taking a holistic approach to Residents' wellbeing, we hope to ensure that they are as happy and comfortable as possible. If any Resident requires an appointment for dental, optical, physio, occupational health or any other kind of treatment, we will help facilitate it.
Living life to the full
Our activities programme is diverse to accommodate the personal preferences of all Residents. We have musical sessions, do arts and crafts, baking and chair football. We also host quiz nights, karaoke, film nights and pool tournaments, and have games consoles.
Our Activities team make sure everyone can find something fun to enjoy at our Care Home, for example, we regularly run musical and reminiscence sessions that are therapeutic and engaging for people living with dementia.
Dining & nutrition
Our nutritious menus always give Residents plenty of choices. By providing Residents with healthy and delicious options, we endeavour to not only satisfy their tastebuds but also look after their health. The chefs make time to find out the foods Residents' enjoy eating, their favourite dishes and any dietary requirements. With a regular review of menus, Residents are free to let us know which meals they've enjoyed and any new dishes they'd like us to include. We work closely with all stakeholders and are approved by the Durham and Darlington local authority team.
Covid-secure visiting
Keeping Residents safe and connected with their loved ones is always a priority for our team at Kingsway Care Home in Durham. We have recently installed a COVID-secure, outdoor visiting pod to ensure that Residents can socialise with their family and friends in warmth and comfort.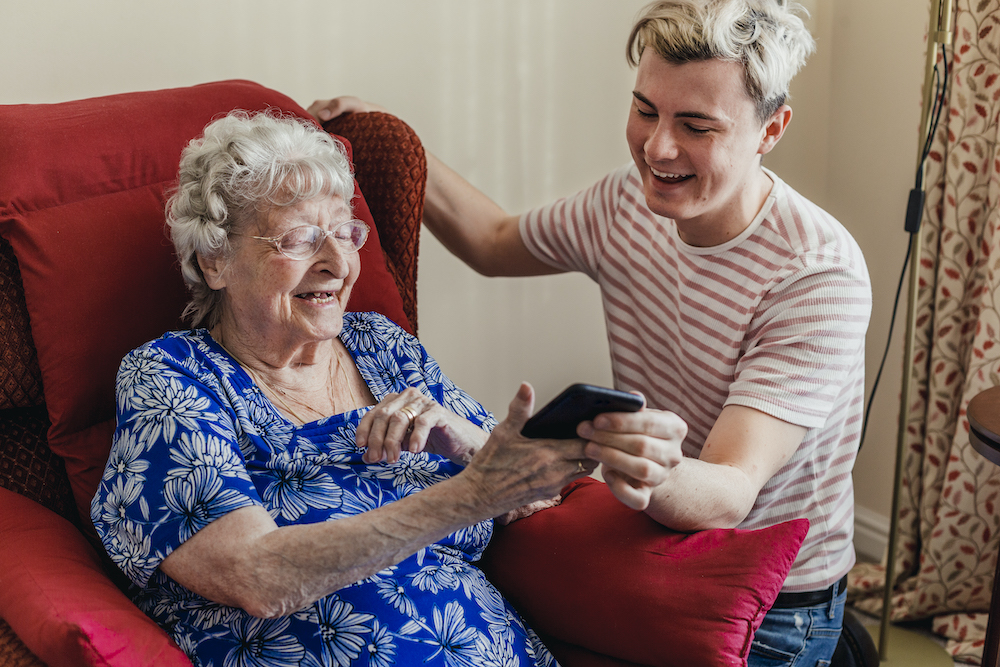 Electronic care plans
We always strive to innovate and use technology to enhance our provision of person-centred care. Our Home uses Electronic Care Plans which provide instant and secure access to care details and provide a thorough overview of support and activities. Using technology increases efficiency and enables our Colleagues to spend more meaningful time with Residents and improving the quality of interactions and care and support provided.
A home away from home
We've created a warm, comfortable environment for Residents at Kingsway House to enjoy. Each Resident is free to make their bedroom space their own, and there are plenty of communal areas to relax in too. Meals can be taken in the dedicated dining room if the Residents choose.
Our conservatory looks out onto the landscaped garden here, an outdoor haven for Residents to spend time in. With plentiful seating throughout, Residents can enjoy the peace and serenity of the space, surrounded by beautiful flowers and plants.
Here are just some of the facilities available in our warm and friendly Care Home in Durham:
Wheelchair access and accessibility
In-house hair salon facilities
Nail bar
Landscaped garden
In-house shop
COVID-Secure Visiting Pod
Spacious Lounge
En-suite Rooms
Pool Table
What residents and families say about us
Here are some of our latest reviews from CareHome.co.uk, the leading care home review website.

I make a point of arriving unannounced and have always found my mother to be well looked after. The staff there are very caring. I am very happy with the service and feel she is safe and excellently cared for.
CP
(daughter of Resident)
Latest news from Kingsway House